Today I headed out to Flatirons Vista just south of Boulder and Eldorado Springs.  Weather was great, about 75 degrees, slight overcast, just and all out great morning to go for a ride.  I did the double loop here covering just under 8 miles in about an hour (didn't really time it, just a guess). 
This is a great trail.  A moderate uphill to start, followed by a fun downhill, then a longer steady uphill, across the mesa thought the woods and out in to the open across the mesa.  Once across the wide open mesa where you can haul ass it heads down a long winding around the mesa.  The last uphill was a little brutal as I was already tired.  Had to take a few minute break here. Once I caught my breath I pounded up the hill and continue around the south end of the loop.  it's pretty flat across the top then a long fast downhill to the car, making it a great way to finish up the trail.  I think I may try to make that trail a regular spot for me.  Good mix of everything and you can know it our pretty quickly.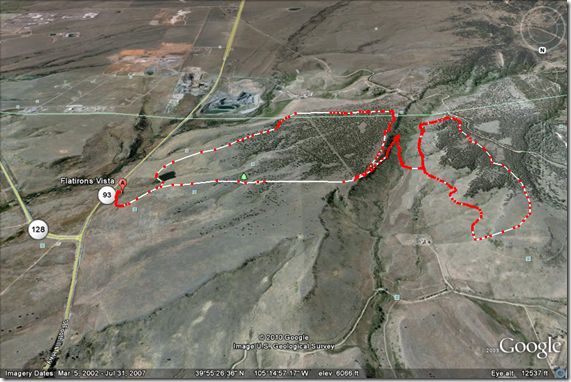 I did OK for my second ride of the summer, but I certainly found out how out of shape I'm in.  I only really took a couple 2 min breaks, but I was working harder than I thought I would be.
The bike on the other hand was a absolutely fantastic. Was the first real trail on this bike and it performed absolutely fantastic.  Very pleased with this investment, can't wait to get it out again…maybe tomorrow morning.